My Chi To
Executive Vice President, Chief Legal Officer and Corporate Secretary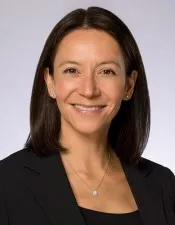 My Chi To is executive vice president, chief legal officer and corporate secretary of Voya Financial, Inc. (NYSE: VOYA), which helps Americans become well planned, well invested and well protected.
In this role, To oversees all aspects of Voya's Law, Compliance and External Affairs department, serving as an advisor to senior management and the Board of Directors on legal, compliance, securities, and corporate-governance matters. To serves on Voya's Executive Committee.
Prior to joining Voya, To was executive deputy superintendent of insurance for the New York State Department of Financial Services, which regulates all health, life and property/casualty insurers doing business in New York, as well as insurance producers and certain public and private retirement systems in the state. In her role, which she held since January 2020, she led a 500-person division, including examiners, actuaries and lawyers supervising over 1,600 entities with $5.5 trillion in assets. Previously, To was with Debevoise & Plimpton LLP for 21 years, including 14 years as a partner in the firm's Restructuring Group and Global Insurance Practice.
To's career combines senior government experience managing legal issues and emerging risks in a complex regulatory environment, with two decades advising public and private corporate clients as trusted outside counsel.
She earned her civil and common law degrees from the University of Ottawa and a master's degree in political sciences and government from the University of Oxford, where she was a Rhodes Scholar, and clerked for the Supreme Court of Canada.
To has served on the boards of trustees for the American College of Investment Counsel and the Cathedral School of St. John the Divine in New York. She also is a past steering committee member of the U.S. 30% Club — an organization of chairpersons and CEOs taking action to increase gender diversity on boards and senior management teams.
A leading health, wealth and investment company that provides products, solutions and technologies for approximately 14.7 million individual customers, workplace participants and institutions in the United States, Voya had $5.9 billion in revenue in 2022. The company had approximately $740 billion in total assets under management and administration as of December 31, 2022.
Want to talk to My Chi? Please contact a member of our media relations team.