Santhosh Keshavan
Executive Vice President, Chief Information Officer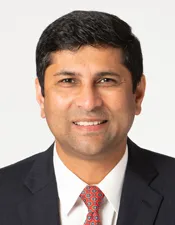 Santhosh Keshavan is executive vice president (EVP) and chief information officer (CIO) for Voya Financial, Inc. (NYSE: VOYA), which helps Americans become well planned, well invested and well protected.
In this role, Keshavan is responsible for the firm's technology systems, data and digital organization, information security and infrastructure. He also serves on Voya's Executive Committee.
Keshavan has more than 25 years of public and private sector experience as a transformation leader, including expertise in financial services, technology and operations. He has extensive experience in complex program management, including acquisitions and divestitures.
Prior to joining Voya, Keshavan held the position of EVP and CIO for Regions Bank based in Birmingham, Alabama, from 2010 to 2017. In this role, he managed core systems, enterprise and corporate systems, and enterprise data services. Previously, Keshavan served as vice president for the pricing and cash management division at Fidelity Investments. Prior to that, he held various positions at SunGard Data Systems (now FIS), eventually being named managing director, International Operations, with a focus on the retirement services industry.
Keshavan has a bachelor's degree in computer science from India and a master's of business administration from University of Alabama at Birmingham with a major in information systems. He serves on the boards of the New York Institute of Technology and Connecticut Insurance and Financial Services, as well as VFI SLK Global Services Pvt. Ltd. — a joint venture between Voya and SLK Group. Keshavan also serves as one of the Executive Sponsors for Voya's Asian Council.
A leading health, wealth and investment company that provides products, solutions and technologies for approximately 14.7 million individual customers, workplace participants and institutions in the United States, Voya had $5.9 billion in revenue in 2022. The company had approximately $740 billion in total assets under management and administration as of December 31, 2022.
Want to talk to Santhosh? Please contact a member of our media relations team.