Rob Grubka
Chief Executive Officer, Workplace Solutions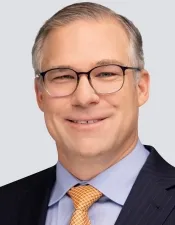 Rob Grubka is chief executive officer (CEO) of Workplace Solutions for Voya Financial, Inc. (NYSE: VOYA), which helps Americans become well planned, well invested and well protected.
In this role, Grubka leads Voya's Health Solutions and Wealth Solutions businesses, which represent approximately 80% of Voya's adjusted operating earnings, and encompass all of the company's workplace businesses, including retirement, group and voluntary insurance, savings and other benefits products and solutions. Specifically, Grubka oversees Voya's workplace strategy, products and solutions, pricing, underwriting, operations, marketing, distribution and customer experience teams. He also serves on Voya's Executive Committee.
Grubka has nearly 30 years of actuarial, product management and leadership experience. Prior to his current role, he led Voya's Health Solutions business since November 2016 and oversaw all aspects of Voya's group and voluntary insurance business — including strategy, product development, underwriting, actuarial, distribution and marketing. In the roughly six years that Grubka led Voya's Health Solutions business, in-force premiums grew approximately 60% and Voya became a top-5 provider of supplemental health insurance in the U.S. (LIMRA). Grubka joined Voya in 2015 as the chief risk officer for the company's Wealth Solutions (previously known as Retirement) and former Annuity businesses.
Before joining Voya, Grubka held several leadership roles at Lincoln Financial Group. He led Lincoln's Group Protection business and headed product teams in the annuity and retirement markets. From 2006 to 2011, Grubka served as senior vice president and head of Retirement Solutions products for Lincoln where his responsibilities included product development and business strategy. Earlier in his career, he held a variety of actuarial roles at Nationwide Financial.
Grubka serves on the board of Junior Achievement North. He earned a bachelor's degree in actuarial science from The Ohio State University, holds FINRA Series 6 and 26 licenses, and is a fellow in the Society of Actuaries. Grubka serves as one of the executive sponsors of Voya's employee-led Volunteerism Council — and is currently participating in Voya's reverse mentoring pilot program sponsored by Voya's NextGen employee-led Council where Voya employees mentor Voya leaders to ultimately help drive change, growth, self-awareness, networking, as well as professional and personal development.
A leading health, wealth and investment company that provides products, solutions and technologies for approximately 14.7 million individual customers, workplace participants and institutions in the United States, Voya had $5.9 billion in revenue in 2022. The company had approximately $740 billion in total assets under management and administration as of December 31, 2022.
Want to talk to Rob? Please contact a member of our media relations team.