Nancy Ferrara
Executive Vice President, Organizational Health and Enterprise Capability Building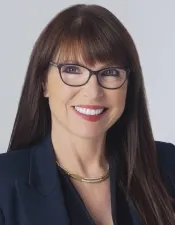 Nan Ferrara is executive vice president of Organizational Health and Enterprise Capability Building for Voya Financial, Inc. (NYSE: VOYA), which helps Americans become well planned, well invested and well protected.
In this role, Ferrara focuses on building and extending capability systems that have been an important part of Voya's success over the past decade. Systems includes the introduction of Lean (Continuous Improvement), systemic processes for capturing cost savings, and the development of Voya's industrial hybrid model. Ferrara collaborates with leaders across the enterprise, building modern capabilities to enrich these foundational systems that support Voya's success.
Equally important as what Voya accomplishes is how it's accomplished. To this end, Ferrara is a key influencer of Voya's culture through her responsibility for ensuring organizational health practices are routinely measured, benchmarked and embedded in the organization. She works with leaders in their execution of enterprise strategic imperatives, ensuring alignment around Voya's vision, purpose and values. Ferrara is also a member of Voya's Executive Committee.
Previously, Ferrara held the title of executive vice president, Continuous Improvement and Operations, where she oversaw the performance of the operations organization, as well as the company's Continuous Improvement (Lean) efforts. Under Ferrara's leadership, the Continuous Improvement management system has been integrated across the company and has created a high-performance culture that has led to dramatically improved business results.
Ferrara's more than 20 years of experience in the financial services industry also includes leading the divestiture-separation team at AIG before joining Voya. She served as operations executive of their Financial Services Division earlier in her career, providing leadership to improve the customer experience and enhance efficiency by leveraging process improvement practices and technology. Ferrara also served in several senior leadership roles at J.P. Morgan Chase, where she focused on customer service and employee engagement.
Ferrara received her Master of Business Administration degree from Hofstra University.
A leading health, wealth and investment company that provides products, solutions and technologies for approximately 14.7 million individual customers, workplace participants and institutions in the United States, Voya had $5.9 billion in revenue in 2022. The company had approximately $740 billion in total assets under management and administration as of December 31, 2022.
Want to talk to Nancy? Please contact a member of our media relations team.