Nancy Ferrara
Executive Vice President, Operations and Continuous Improvement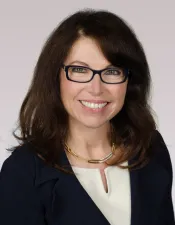 Nan Ferrara is executive vice president of Operations and Continuous Improvement (CI) for Voya Financial, Inc. (NYSE: VOYA), which helps Americans plan, invest and protect their savings — to get ready to retire better.
Ferrara oversees the overall growth strategy and performance of the operations organization, as well as the company's Continuous Improvement (CI) efforts, a key driver of Voya's strategic transformation that she has led since joining the company in April 2012. Under Ferrara's leadership, the CI management system is being integrated across the company and creating a high-performance culture that has led to dramatically improved business results. Ferrara also serves on Voya's Executive Committee.
Previously, Ferrara held the title of senior managing director of operations for Voya, providing oversight of the operations strategy. Ferrara's thoughtful leadership skills, expertise and results-driven approach helped build high-performing teams and greater collaboration among Voya's ongoing business and support functions.
Ferrara's more than 20 years of experience in the financial services industry also includes leading the divestiture separation team at AIG before joining Voya. She served as operations executive of the Financial Services Division earlier in her career, providing leadership and working directly with operations leaders to improve the customer experience and enhance efficiency by leveraging process improvement practices and technology. Ferrara also has served in a number of senior leadership roles at J.P. Morgan Chase, where she focused on customer service and engagement.
Ferrara received her Master of Business Administration degree from Hofstra University.
Serving the financial needs of approximately 14.8 million individual and institutional customers in the United States, Voya is a Fortune 500 company that had $7.6 billion in revenue in 2020. The company had more than $718 billion in total assets under management and administration as of September 30, 2021.
Want to talk to Nancy? Please contact a member of our media relations team.