Donald C. Templin
Executive Vice President, Chief Financial Officer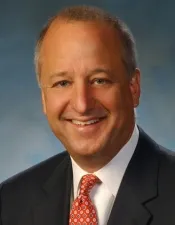 Donald C. Templin is executive vice president and chief financial officer (CFO) of Voya Financial, Inc. (NYSE: VOYA), which helps Americans become well planned, well invested and well protected.
Templin — who also serves on Voya's Executive Committee — oversees Voya's Finance organization as well as audit, strategy and corporate development, and continuous improvement. He joined Voya in November 2022.
Templin has more than 30 years of corporate finance experience and, prior to joining Voya, served as executive vice president and CFO of Marathon Petroleum from July 2019 until January 2021. He also previously held the CFO role at Marathon Petroleum from June 2011 through February 2015 and built out and led Marathon Petroleum's entire finance organization following its separation from Marathon Oil. He concurrently served as CFO of MPLX LP (NYSE: MPLX), a diversified, large-cap master limited partnership formed by Marathon Petroleum, from October 2012 through February 2015. He returned to the CFO role at Marathon Petroleum in 2019 to, among other things, drive execution and synergy capture across the enterprise. 
Between his two CFO tenures at Marathon Petroleum, Templin held several leadership positions at both Marathon Petroleum and MPLX, including executive vice president — supply, transportation and marketing for Marathon Petroleum; president of MPLX; and president of Marathon Petroleum. Prior to joining Marathon Petroleum in 2011, Templin held a number of roles at PwC, including serving as a partner at the firm.
Templin currently serves on the board of directors of Aris Water Solutions, Inc. (NYSE: ARIS). He received a bachelor's degree in accounting from Grove City College.
A leading health, wealth and investment company that provides products, solutions and technologies for approximately 14.7 million individual customers, workplace participants and institutions in the United States, Voya had $5.9 billion in revenue in 2022. The company had approximately $740 billion in total assets under management and administration as of December 31, 2022.
Want to talk to Donald? Please contact a member of our media relations team.