Christine Hurtsellers
Chief Executive Officer, Voya Investment Management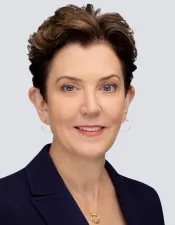 Christine Hurtsellers is chief executive officer (CEO) of Voya Investment Management, the asset management business of Voya Financial, which helps Americans become well planned, well invested and well protected. In this leadership role, Hurtsellers drives the strategic direction and operational performance of Voya Investment Management, which manages approximately $320 billion in assets as of Dec. 31, 2022, for both affiliated and external institutions as well as individual investors. The firm, which has a more than 40-year history, is a top-25 manager of U.S. institutional and defined contribution assets across Equities, Fixed Income and Multi-Asset Strategies and Solutions. Hurtsellers also serves on Voya Financial's Executive Committee.
Voya Investment Management's mission is to help investors meet their long-term goals with confidence. Hurtsellers and her team adhere to the guiding principles of stewardship and service in delivering a value proposition of being a reliable partner committed to reliable investing. This commitment to reliability positions the organization to deliver consistent performance over a long period, which is critical for retirement planning, pension investors and long-term savers.
Before becoming CEO in September 2016, Hurtsellers was chief investment officer of Fixed Income at Voya Investment Management. In this role, Hurtsellers led a team of more than 100 investment professionals with over $134 billion in fixed income assets under management as of June 30, 2016. Prior to that, Hurtsellers was head of Structured Finance and also served on a mortgage-backed securities team that was responsible for the highly successful track record of the company's proprietary mortgage derivatives portfolios. As a member of the Voya Financial Operating Committee, Hurtsellers collaborated on overall business strategy and key corporate-wide initiatives. She is a board member of Pomona Capital and a member of the U.S. Treasury Borrowing Advisory Committee and serves on the ICI's Board of Governors. In 2014 and 2018, Hurtsellers was named one of Money Management Executive's top women in asset management.
Before joining Voya in 2004 as a senior portfolio manager, Hurtsellers developed extensive mortgage portfolio-management experience, most notably at the Federal Home Loan Mortgage Corporation ("Freddie Mac"), where she led the agency guaranteed retained portfolio team with $650 billion in assets under management. Prior to that role, Hurtsellers managed mortgage derivatives, adjustable-rate mortgages and collateralized mortgage obligations (CMOs). Prior to Freddie Mac, she was a portfolio manager responsible for securitized assets at Alliance Capital Management, and securitized and municipal securities at Banc One, and was a client consultant at Pentalpha Capital group.
Hurtsellers earned a Bachelor of Arts in finance with high honors from Indiana University Kelley School of Business and holds the Chartered Financial Analyst® designation.
Want to talk to Christine? Please contact a member of our media relations team.